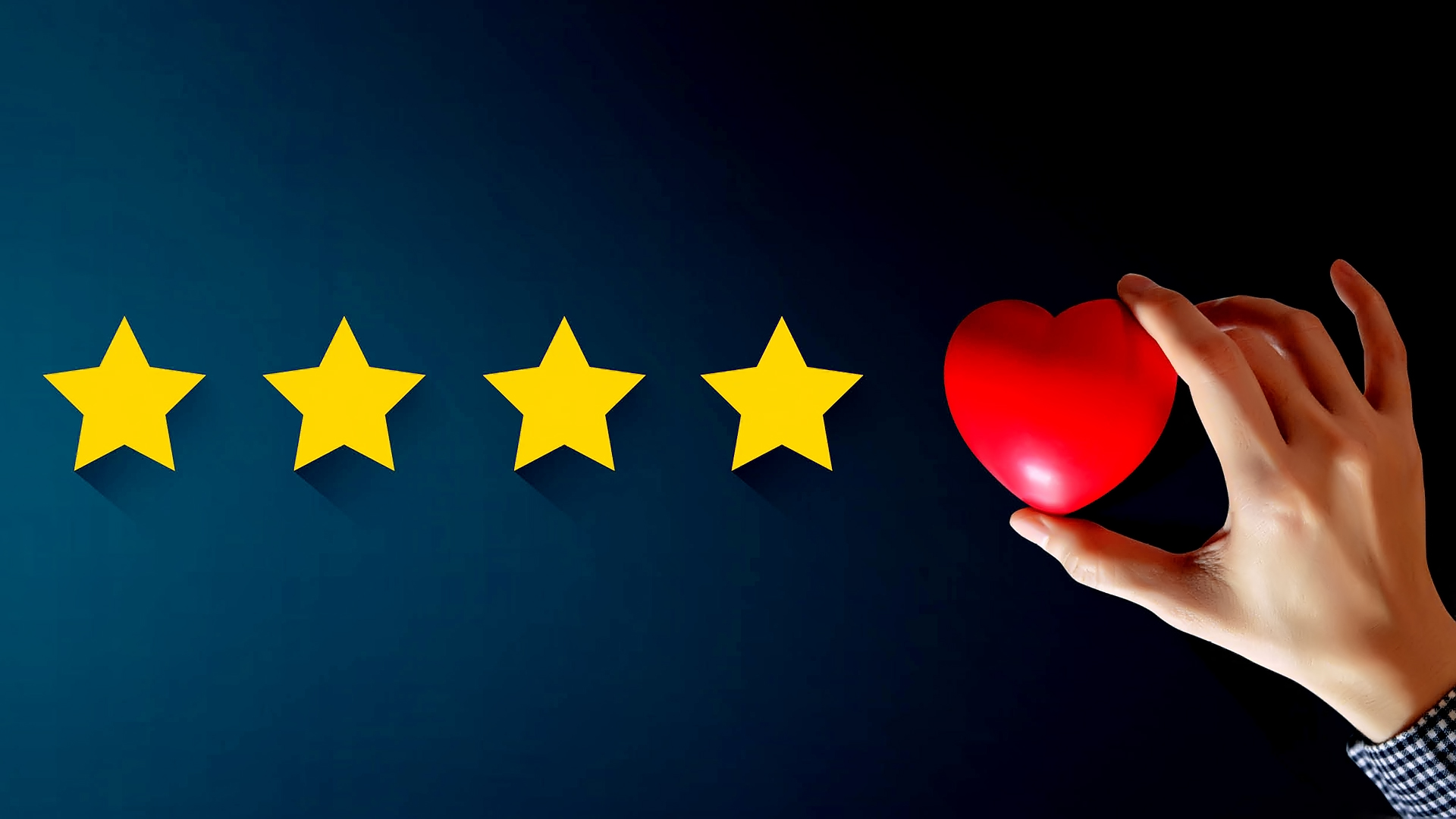 Did you know customer reviews and local search engine optimization (SEO) go hand in hand? Let's explore how those shiny stars can help improve SEO for your business.
"I don't want to annoy them," said Katie, "I feel like I'd be imposing if I bugged them for a review." She was responding to my question about collecting customer reviews for her doggy daycare business.
I had just picked up my dog, Andy, and I felt like I wanted to leave a review for her. After all, Katie and her team really took care of Andy, and he was always in such high spirits when he saw me walk in. I wanted to help her attract new puppy parents, so I asked if she ever considered asking for a review when customers came to pick up their dogs (a trick I'll tell you about later.)
Like most business owners, Katie felt like she was being a pain if she asked customers to leave a review.
She felt like they just wanted to pick up their dogs and leave without being bothered, so she never asked. Like most business owners, she didn't see the local SEO value in collecting, replying to and promoting her customer reviews, which is why I wrote this post.
Why Do Customer Reviews Matter For SEO?
Before we explore how customer reviews can help improve your local SEO, I want you to step back and think about customer reviews in a different way. Let's get rid of all the technobabble and think of a customer review as a report card. Remember how important those flimsy pieces of paper were to your after-school freedom? The grade a teacher gave us dictated what we'd do with our free time, if we could play with friends, and if our parents celebrated our successes or dug in on our need for improvement.
One of my best friends in middle school was Aaron. I'll never forget going to his house on report card day right before winter break. We were eating snacks at his kitchen table when his mom walked in and said, "Let me see what we have here." Aaron handed her the report card and smiled from ear to ear. He had a two B's and three A's, and he sat there with his hand outstretched on the table. His mom said, "OK, so two B's at $25 each is $50, and three A's at $50 each is $150. Good job! Here's $200 to spend on whatever you want."
I had to do a double-take as she handed Aaron 10 crisp $20 bills. I had never seen anything like this before, but it was her way of positively reinforcing his performance in school. So why am I telling you the story of Aaron's report card riches? Well, think about how he got more money for having better grades. Sound familiar?
If your business has all A's and B's (4.2–5 stars) then people are willing to pay more money for your products or services. Whereas if you have C's, D's and F's, they'll expect a lower performance and pay you accordingly.
The more positive report cards you have – the number of reviews – the more money you'll theoretically make.
Customer reviews drive buying decisions. In fact, nearly 95% of shoppers read online reviews before making a purchase, and 72%of people won't take action until they read reviews about a business.
Those shiny little stars are mission-critical to your business success, so you can't be like Katie and avoid asking your customers. If there's ever been a time in history when online reputation mattered most, it's right now – in the middle of a pandemic – when consumers are spending more time at home, figuring out what they need to improve their quality of life.
Whether you sell pens or pizza, yarn or yoga sessions, your potential consumers are online and want to see positive reviews from your customers before they'll consider opening their wallet.
How Do Customer Reviews Improve SEO?
When I present for Google, I like to teach my audience about micro-moments because they are the catalysts that get someone searching online to fulfill a need.
A micro-moment is an intent-rich moment where consumers need to know something, go somewhere, do something or buy something.
In a micro-moment, people reflexively turn to a device to act on their needs. Examples of micro-moments include:
Being hungry and searching for a "burger restaurant near me"
Having a leak in your house and asking your phone to find a "plumber near me open now"
Needing a snowblower for the upcoming winter and searching deals on Google Shopping
Having a baby and looking up "How to raise a baby"
Consumers in these micro-moments are turning to search engines like Google and expecting the best possible company with the highest-rated products and services to show up in their results.
If these consumers expect the best companies to show up, then wouldn't a search engine like Google need customer reviews to determine if a business deserves to show up in the search results?
In fact, multiple research studies have found that collecting and replying to customer reviews is critical to your local SEO. Just like Aaron's mom, it's implied that Google wants to reward businesses with higher grades by helping them get found on Google Search and Maps more often.
Side note: if you have a local business – physical location or service-based business – and you haven't created a Google My Business profile, then you need to get on that right away.
How Do I Ask For Customer Reviews On Google?
We've established the importance of customer reviews, especially on Google My Business, but what are the best ways to ask for reviews? Here's a list of possible ways you can ask for reviews:
Ask When Your Customer Is In A State Of Joy Or Delight
For example, remember when I mentioned customers picking up their dogs from Katie's daycare? Well, there's something magical about being showered with unconditional love from a dog. So magical that, if I were Katie, I would ask customers for a review right as the dog jumps up to say, "Hello!"
Another example would be if you're a real estate agent, title company or closing attorney. One of the most exciting and invigorating experiences in life is when you're handed the keys to your new home. Figure out a way to ask your clients if they'll take a minute and share their experience, so you can help others find their dream homes too.
Remind Your Customers In Your Email Signature
If you think about it, people see your email signature again and again and again. It's like a tiny billboard in their inbox.
Instead of sharing a quote or reminding people to save the environment, use your email signature as an opportunity to ask them for a review of your business.
One of our clients does this very well, and she's collected quite a few reviews through her email signature.
Create Your Own Review Landing Page
One of the most effective ways to collect reviews is through a custom-branded review landing page. And when you receive new reviews, be sure to respond to them right away!
Putting It All Together
We started with Katie and her apprehension of asking for reviews, but after taking a closer look at the relationship between customer reviews and local SEO, we realized that Katie needs to start asking for reviews, so she can get found on Google Search and Maps.
Thinking back to Aaron's report card payout, we realized that the better our business is rated, the more a search engine like Google wants to help us grow our business.
As we continue to get 4- and 5-star reviews, we continue to signal to Google that we are providing the WOW experience that consumers are looking for when searching in their micro-moments.
Finally, we covered some proven ways to grow our customer reviews: asking in moments of elation, putting a reminder in our email signature and using a tool to help us manage the process.
In the end my friends, I can't stress enough how important customer reviews are to your ability to show up when someone is searching for your products or services. Get out there and grow those reviews!
originally posted on godaddy.com by Bryan Caplan
About Author: Bryan Caplan is all about helping you build a bigger, better business. A national speaker for Grow with Google and Constant Contact, award-winning CEO of Bryan Caplan Marketing and host of the Bigger Better Biz channel on YouTube, Bryan works with entrepreneurs around the world, teaching and coaching on digital marketing topics to help small businesses grow and succeed. Connect and learn with Bryan by visiting https://www.bryancaplan.com/go.